FEATURING OVER 20 TOUR-LEVEL ACCURATE DATA POINTS INCLUDING CLUB METRICS
The ES Tour Plus stands alone when it comes to offering this level of technology at this price point with the least amount of space requirements in the industry.
Two high-speed infrared cameras and four 3D Doppler radar sensors provide 20 highly accurate data points: Carry Distance, Total Distance, Club Speed, Ball Speed, Smash Factor, Launch Angle, Launch Direction, Spin Rate, Spin Axis, Ball Height, Hang Time, Attack Angle, Land Angle, Dynamic Loft, Spin Loft, Club Path, Club Face, Club Face-to-Path, Side Carry, and Side Total.
Verified Best Buy Customer:
APRIL 2022
Loving it so far! It gives a lot of data. I chose this over the Mevo+ and SkyTrak because of the space needed and extra club data. Really enjoying it!
Ernest Sports is also very proactive with helping customers. I was surprised at how quickly you can get a hold of them.
Verified Customer:
JUNE 2022
I've been using this unit for about 3 weeks now and I'm extremely pleased. I wanted to stay in the $2K range, but still be able to get club head data and ball data, which is why I didn't go with SkyTrak. This setup was super easy and I use it under my fully covered porch.
I had to adjust the light in my golf studio so I called Ernest Sports and we adjusted the EXP setting and it resolved the issue instantly. It was a great experience and they were very responsive. I also had a chance to compare the ES Tour Plus to a Trackman and found the data to be very comparable in terms of distance, club path, club face, spin rates, and directionality. So if you want club data and to not break the bank, this is the product to buy. I couldn't be happier with the product and I was really pleased with the support provided.
Verified Best Buy User:
JANUARY 2022
When dialed in, this device works wonders. It even tracks my shanks(gulp). In less than 23 days of owning it, I have seen 20 yards of improvement on my 7 iron.
I also like that ES has been great in customer service, like in the old school way where they ask your name and you have a live person to talk to. Because I like details, I have spent many hours talking to the software engineer in understanding how I can push the device past the intended design. They are not only responsive, but transparent with their technology in how it works.
This has been the best investment in my game thus far.
Verified Customer:
December 2021
This product arrived very quickly. The setup was straight forward, downloaded the ES Golf app, and then I was hitting. Ball positioning took a few tries to get right, but ever since I found the sweet spot it has been simple to use. I would recommend this product for its quality and performance.
The instrument gives many of the data points like smash factor, club/ball speed, distance, spin rate,..., but the ability for the ES Tour Plus to give club face/path data points sets it above the others. The free ES Golf app has been really great for seeing all those data points, along with averages and shot dispersion. The club comparison data is useful as I have tried it with several different drivers. I feel this purchase is an excellent improvement to my game and fun with simulator use.
INDUSTRY LEADING TECHNOLOGY
The FREE ES Golf App is your virtual driving range
Easily move between 60 and 400 yards
Realistic green complex and targets
Store and Download Data
Compare and Contrast Clubs
NO SUBSCRIPTIONS OR ANNUAL FEES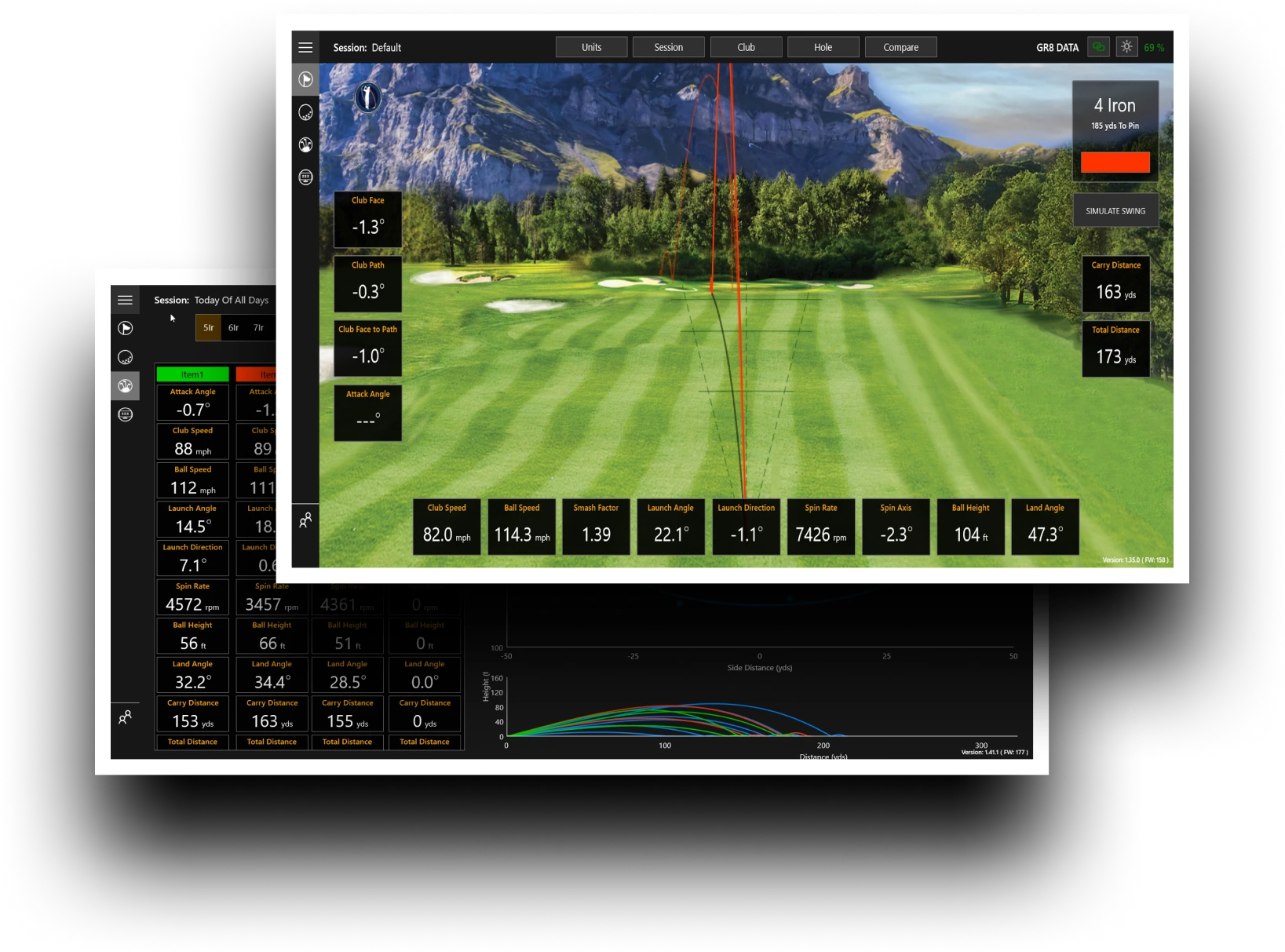 Custom simulation packages for every budget
PURCHASE THE TOUR PLUS AS A STANDALONE SIMULATOR OR AS PART OF A FULL SIMULATION PACKAGE.
The ES Tour Plus is the cornerstone of your indoor simulator. We can help you with a setup as simple as the Tour Plus, along with a net, hitting mat, turf, and a tripod for your tablet display. Combined with the award-winning ES Golf App, you have just created a very affordable, game-enhancing indoor driving range that can be virtually adjusted from 60 – 400 yards. Your shot-by-shot data fills the display and can be saved and analyzed later by viewing club averages, shot dispersion, shot shape, delivery, spin, and more. The ES Golf App also helps you compare up to five combinations of clubs, hosel settings, shafts, and balls to optimize your equipment.
Let Ernest Sports help you create your own golf performance studio!!
When it's time to have more fun, Ernest Sports can take golf simulation to the next level. We have partnered with the leading golf course simulation software providers such as The Golf Club 2019 and E6 Connect to provide lifelike simulation of many of the world's most recognizable courses. We can also assist you in outfitting your simulator with options for enclosures, turf, mats, computers, projectors, stands, and other accessories.
Call us at 855-354-GOLF to discuss your simulation package options and package pricing.
SIMULATION COMPONENT OPTIONS
Computers: Laptop or Tower

Software—TGC 2019, E6 Connect, GCPro (coming soon)
OPTIMA 3000, 4000, 6000 (lumens)
FULLY CUSTOM SIZES AVAILABLE – CALL 855-354-GOLF
ACCESSORIES
Call for Pricing
43″ AND 65″
TOUCH SCREEN
MONITORS